with Maximum acceleration of 2G
KAIZEN process of productivity starts from single axis robots.
LGXS series were added to Robonity line to meet the increasing demand of productivity improvement.
Benefit of higher acceleration/deceleration:
Reduction of operation time in the same lot = increased production volume in the same time
Impact of higher G acceleration/deceleration
Comparison of tact time with the payload of 1 kg.

What's new with advanced LGXS series?
It is a ground ball screw for higher precision, longer life, and better dynamic characteristics.
Impact of higher G acceleration/deceleration
Service life when the payload is 1kg.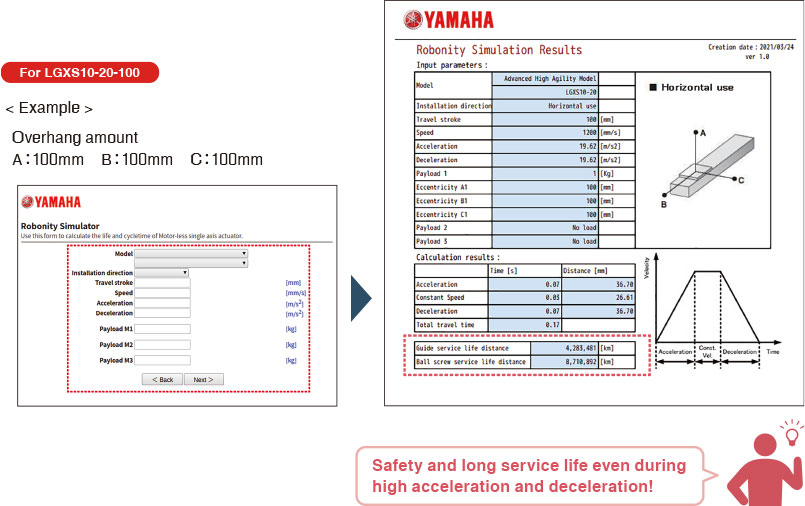 <Example>
Movement stroke is 100 mm. Payload is 1kg. Robot operates 8 times per cycle.
Daily operation hours are 8 hours. Robot operates for 20 days every month. Operating ratio is 100%.
The estimation is made under the above conditions.
| | Work time | Robot operation time | Total time | Production volume per hour | Production volume per day | Production volume per month |
| --- | --- | --- | --- | --- | --- | --- |
| 0.5G | 8sec. | 0.3sec. | 10.4sec. | 346pcs. | 2768pcs. | 55360pcs. |
| 2.0G | 8sec. | 0.17sec. | 9.36sec. | 384pcs. | 3072pcs. | 61440pcs. |
As a result, there is a difference of about 6,000 pcs. (about 10%) in one month under exactly the same operating conditions.
A robot is a robot…. regardless of brand…isn't it?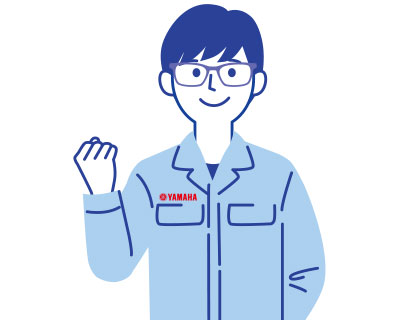 From Yamaha R&D
Yamaha's single-axis robots have excellent durability and long product service life. The "Robonity" series has been evolved further. By utilizing our accumulated know-how and the features of each component to the maximum extent, the products confidently meet various needs of our customers, such as low cost, productivity, space saving, and quality improvement.
Please contact Yamaha representative for all features Robonity series privide.